At Capacity
Golf Spring 2023 Open - Audubon Tuesday Golf · Any Any Skill Level
Sold Out
Mon
Tue
WedThuFriSatSun
5:50pm to 6:20pm
9-hole, Mixed 2 Person Scramble, Match Play
Individual Fees

Regular

$55.00
**Start date is weather pending.
This is a relaxed, social golf league. Most of the golfers are beginner to intermediate level. However, any skill level is welcome.
This league takes place at Audubon Golf Course in Amherst.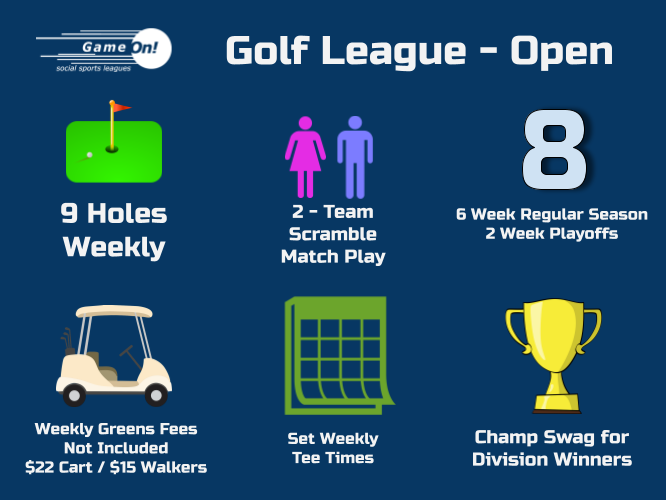 Format & Rules
Women's only League.

2 Person Team Scramble - Match Play for 9-holes - Team's Play head to head weekly.

Max hole score capped at Double Par
Scramble format involves 2-person teams where each player on the team hits a tee shot, and then the players decide which shot they like better. The two players then play from that spot. The person who's shot was not taken picks up their ball and moves it to within one club length of the selected spot. Once the spot is selected, both players then play a shot from that spot, and again pick which one they like better. This continues until the hole out.

Included in Registration Fee

6-week regular + 2 Weeks of playoffs. 8 Weeks of play guaranteed.

Organized format with weekly team times reserved

Tee Times 5:50 PM, 6:00 PM, 6:10 PM or 6:20 PM

One Sleeve of Golf Balls/person

All golfers make post season for up to 2 more weeks of play.

Awards for championship teams
NOT Included in Team Fee
Weekly Greens Fees ($15 for walkers, $22 for cart)
TITLE SPONSOR
opportunities available - inquire at info@game-on-sports.com
SESSION SPONSORS