Register
Pickleball - First Trinity Mondays Winter 24 Pickleball · Any All Skill Levels
Mon
TueWedThuFriSatSun
6:30pm to 10:15pm
2v2: Min Team of 2 Players Max of 4
Team Fees

Regular

$190.00 per team
Free Agent Fees

Regular

$95.00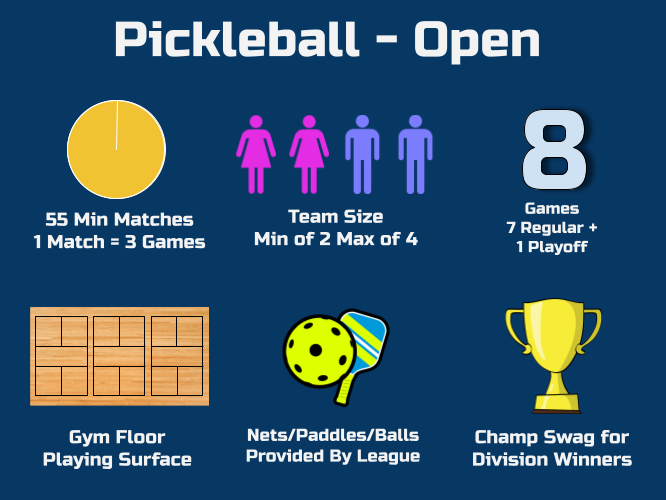 Overview

The ball is served diagonally (starting with the right-hand service-square), and points can only be scored by the side that serves. Players on each side must let the ball bounce once before volleys are allowed. There is a seven-foot no-volley zone on each side of the net, to prevent "spiking" The server continues to serve, alternating service courts, until he or she faults.
Pickle-ball can be played with singles or doubles. Matches will consist of three games played to 11. First team to 11 wins the game. You do not need to win by two. Scores are capped at 13.
Warm-up time will be included in the match time. The match should take roughly 50 minutes to complete. If games have not been completed with 10 minutes left in the 50 minute time slot allotted for each match, games shall switch to rally scoring. In rally scoring, teams score a point regardless of which team is serving. The entire official USA Pickleball rule book can be found here.
Registration Fees
Team Fee - $190 Regular
2 Players on the roster - $95/person Regular
3 Players on the roster - $63/person Regular
4 Players on the roster - $47.50/person Regular
League Equipment & Field of Play
League will provide nets and balls for all teams.
Teams provide their own paddles. Some loaner paddles are available for teams to use.
Teams shirts provided by league
League Format
Teams must have at least 2 players, but no more than 4 players on their roster. No gender requirement.
1 Match = 3 Games

Games are played to 11
Do not have to win by 2.
Teams only score when serving
All matches must be played within the allotted 50 minute window.
Switch to Rally scoring at the 10-minute warning

Pickleball Rules 8.11.22.pdf
League Notes:
Now accepting registrations!