Football 2023 Summer - Friday Touch Football · Co-Ed Open
Accepting Team Players Only
MonTueWedThu
Fri
SatSun
7:00pm to 11:00pm
6-on-6, min of 2 females, roster min 10 players
Team Fees

Regular

$62.00

per player

Forfeit Fee

$50.00 (payable by captain)
Individual Fees

Regular

$65.00
Join Game On! for Coed 2-Hand Touch Football at the Nardin Sports Park in North Buffalo!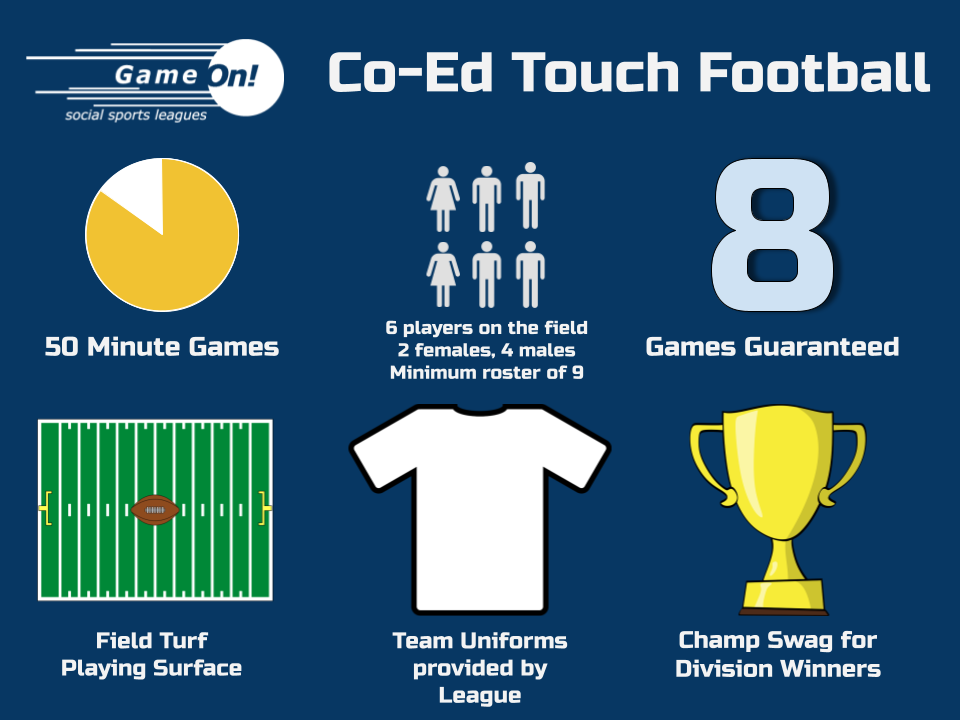 SPACE IS LIMITED

Due to limited time slots, we cannot take 40+ teams like our outdoor sessions.

Teams will be accepted on a first come, first serve basis.

A roster of 10 players two of which are female are required to reserve your spot.

Nardin Sports Complex
Games will be played at the Keane Sports Park at Nardin Academy



Artificial turf fields.

Bathrooms on-site

Format & Rules
All divisions are Coed

Recreational and Competitive Divisions (Dependent on total # of teams)

6 players on the field, at least 2 of which must be female

Rosters must have at least 10 players

For more details, check out the League Rules

Included in the Team Fee

8 regular season games

At least 1 playoff game

Single-elimination playoff for ALL teams

Game On! swag for championship teams

Team Uniforms - color selection awarded based on a first come, first serve basis of fully registered and paid teams.

NOT Included in the Team Fee

Referee fee of $25/team/game

Playing equipment (footballs, footwear, etc)
TITLE SPONSOR
SESSION SPONSORS