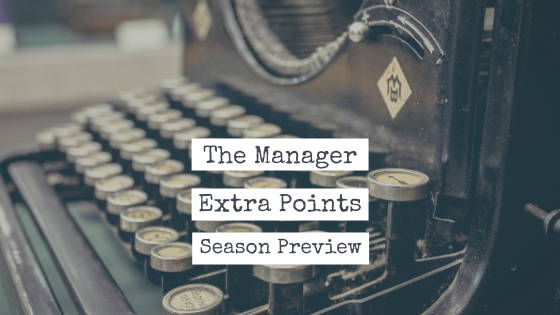 Welcome to the first edition of "Extra Points" with yours truly, 'The Manager.' Each week I will be writing about and highlighting the divisions, teams, players and games across the league.

The league moves to the outdoor Kevin T. Keane Sports Park at Nardin this Spring with its beautiful turf field and amenities. The league and its owners have done a great job securing the facility for all of you to play and enjoy Saturday coed football together and I am looking forward to all the fun you will have!
The "Extra Points" weekly article is going to be a fun read that I know you will all look forward to each week and I will do my best to analyze and recognize every team and most of its players throughout the season. I encourage captains and players to reach out through email if I miss anything, you want to tell me how great the article is or disagree with my expert analysis. You can email me at TheManager@game-on-sports.com
Now to the fun stuff, my preseason predictions for each division;
D1:
Our QB is Better than Allen / 2:1 odds
Coming off a Fall D1 championship against the Wanderers, Bobby and his brother, Joe, bring back mostly the same team with newcomer Sam. This team has speed and boasts one of the best group of females in the league. Knocking of the Wanderers, who had not lost D1 in YEARS, is no easy feat and now that they have the confidence, Our QB is set to run the table again. Prediction: Championship win
Wanderers / 3:1 odds
Sal and his squad bring back mostly the same team with the additions of Nick and Chris. Mackenzie looks to be taking a season off but the chemistry Frank has built with his players and the consistency these guys have on and off the field will cause little problem for the Fall runner-ups. They went 10-0 in the fall and surely want revenge on "Our QB is Better than Allen." Prediction: Championship loss
Losing Streak / 10:1 odds
After a nearly 2 year hiatus, Jordan brings the Pink squad back to Game On! Losing two championships against the Wanderers has stung and this team is looking for revenge. Ralph and Chris make their return and vow to play lockdown defense. This team is fun to watch and has the chemistry to make a run, but I don't see them getting past either of the top two teams above.
Prediction: Semis loss
Can't Two Hand Touch This / 15:1 odds
Competing with team Odoo for largest roster in the league comes the team in Purple. Winners of the D2 Fall championship, Can't Two Hand built on their chemistry during the winter, but suffered a disappointing playoff loss. Darrik, Rochelle and Vinny are absolute difference makers and will help their team to a 6-3 record or better. John is a great QB for anyone to watch and has one of the best arms in the division. Prediction: Semis loss
Sizzurp Slurpees / 15:1 odds
Matt brings back his team to compete for that elusive D1 title he wants so bad. Pat was an under the radar pickup and Kristian brings years of experience and good communication to both sides of the ball. When all else fails, they still have the "Tom Earley" play, which, for those of you that don't know, ask anyone in D1 and they will tell you how it works. Prediction: OT loss in 2nd round
Get Open and Catch the Ball GOCTB / 20:1 odds
Ginter is still playing? How long has this guy been at it and why does Nick Wendt stick with a losing team? Lost in the Sauce, Bad Friend Squad, Our QB is Questionable, Any Given Saturday, whatever these guys decide to call themselves I still don't see them making any waves in D1. Seriously though, I love Justin but jsut don't think they have the fire power to compete with the top teams. They do have a full roster this session though as attendance has been shaky in the past and that will help. Prediction: Loss in 2nd round
Goungo Fever / 50:1 odds
How many times is spell check going to correct the word "Goungo?"....this is a team of savvy veterans with smart decision making and play calling. They have a great group of girls and Tim is highly underrated as a receiver. Why isn't Joe even on this roster, did they get permission to use his name? Unfortunately I don't see this team catching any kind of fever other than being sick after their season ends in the first round. Prediction: Loss in 1st round
Tap that Pass / 100:1 odds
After going 10-0 in the regular season and cruising through the playoffs in D3, Tony courageously moves his team straight to the top. I applaud and respect the move and think this team will win a few games but will find that D2 may have been better suited to them. Randi, Rachel and Dianne can all ball and the strength of this team is its females, but without a strong QB it is hard to win games consistently. Prove me wrong please Tony. Prediction: Loss in 1st round
D2:
Totes / 5:1 odds
What looks like the most competitive and evenly balanced division, Totes are my favorite to win. Adam and his crew have been around forever and always look great in their custom Totes gear. With Marty throwing, a team always has a chance and the athleticism on both sides of the ball will be the difference maker in setting Totes apart from the rest of this division. The girls on this team are smart, quick and have great hands and will fit right into what Totes is trying to do in getting back to the top. Prediction: Championship win
Just Get Open / 7:1 odds
John has his team rebuilt and ready to compete for another D2 championship. Jennings comes back as QB here (has anyone noticed how he scrapes his tongue with his fingers before throws) and his knowledge and experience is needed in a competitive division. His favorite targets Desiree and Dave are back at it and Weldon is a welcomed addition to a roster already stacked with talent. Prediction: Semis loss
Clutch Genes / 7:1 odds
Karon and his crew change their team name for the Spring session and add one of the best females there are in Courtney. Jason and Melissa stick with Karon from their years on Bodak Yellow and look to make another run. This team knows how to put up points and will be strong on defense as well. Losing Weldon and playing in Navy Blue though worries me. Prediction: Semis loss
Touchdown There 7:1 odds
Can a division really have Tony Martorana and Steve Moser ? Is the league seriously going to allow the fireworks that will surely come? Speedy Zach returns and will make Tony look good again this session and long time teammate Marco comes back as well. This team plays fast and doesn't wait for the refs or the other team to get set. Will #freetony be a thing in 2022 again? Prediction: Loss in Championship
Touch Football Mafia / 10:1 odds
Steve brings his family team back for another run at a title. His #1 target Rylee should be open over the middle every game as usual and is difficult to stop. These guys will run the clock if they have a lead so watch out. I like their chances in D2 and am happy to see they moved up to compete at a higher level. Hopefully attendance won't be an issue playing other games throughout the day. Prediction: Loss in 2nd round
Mavericks / 10:1 odds
Jordan brings some of the leftovers of No Soup back to D2 in hopes of another title with a different team name. Realizing it is better to play WITH Manny than against him, he wisely had him join the squad. I heard rumblings of a backup QB getting the reigns Week 1 and Jordan not even throwing, if that is the case, the odds are much lower for this team. Prediction: Loss in 2nd round
GUCCI / 20:1 odds
Kelly is at it again and will surely be QB'ing some of the best 'aging' talent in the league. I love seeing Kelly at QB and designing plays as she was once considered one of the best female receivers in the league and easily carried that knowledge over to QB. With every play counting as a gender and scores worth 8, this team is tough to keep up with if the opposing team does not have great girls. If GUCCI can score I like their chances, if the offense fails and they have to bring Frank in to guest pass at QB, I also like their chances. This team is tall, really tall. Prediction: Loss in 1st round
Go Deep / 25:1 odds
I don't want to write off Paul's team just quite yet, because they did sign up for D1 but were bumped down by the powers that be. The roster of this team, with the exception of Ty and Brea, looks like the top names of the 90's, check it out! An offshoot of the Hulks, Go Deep is probably going to do just that and go deep. That doesn't always work and being a new team doesn't help with chemistry either. I would love to get know these guys a little better and look forward to Paul and his crew proving me wrong throughout the season. Prediction: Blowout loss in 1st round
D3:
North Buffalo Knights / 3:1 odds
After spending years in D4, Mekker and his crew finally won and move up to D3, instantly becoming the favorites to win it all. Angela, Chris's wife, will be one of his favorite targets yet again and it seems that Alexis finally moved this team over the hump that was D4. Can this team win in Black shirts though, why didn't they register quicker to play in their yellow/gold and what kind of smack down will they lay on "It's for Fun" for stealing their colors? Look out for the I-formation.....even though it's not fooling anyone. Prediction: Championship win
The Hulks / 5:1 odds
Will and Ashly move down to D3 and it has me wondering who is going to QB for the squad in Lime. This team has been around forever but with a few players leaving for "Just Get Open" in D2, they will not be the same. Any Hulks roster without Gio on it is an inferior one, but this team will still make noise. I hope that things click quickly so we all don't have to see what happens if they get angry, we probably won't like them when they are angry. Prediction: Loss in Semis...by a lot
Laces Out / 7:1 odds
Brandon and crew boast the most talented roster of D3 and have some players from the old "Tight Butts" roster but no Pickens?! Brandon likes to scramble and make plays and it is wise to put a fast female or male rusher so your defense doesn't have to cover for 15+ seconds. After a disappointing 5-5 record last Fall, Laces will be looking to improve and make a serious run at the championship. I like their odds. Prediction: Loss in Championship
Still Running / 10:1 odds
Jordan and his team have been running for years and have bounced through 3 of the divisions. He returns most of the regulars and a quick, talented and smart QB in Alan. Has anyone checked out Jeffrey's Game On profile....kinda strange, watch out for this guy! The chemistry is there with this team and I love their chances if they can get on a late season roll. Captain Jordan gives everything he has to his team every Saturday and that's what they will need. Prediction: Loss in Semis
Goatsack! / 10:1 odds
I wonder if Team staff member Colleen will be coaching from the sidelines or just playing beer pong with the team. If Andy and crew want a serious chance at the title she will be taking notes and calling out plays for the veterans in white. Goatsack undoubtedly has the most fun group of females in the league and just an overall great team and people to be around. I hope that they follow the rules and clean up the 100 or so beers they bring to the field each week. Prediction: Loss in 2nd round
Lava Covered Ninjas / 12:1 odds
How many teams will Marty throw for? Which team will be his priority? Will his arm last through Week 3? I don't have the answers to those questions but if he plays well and stays healthy, the Ninjas have a shot. A disappointing 3-7 record in the Fall forced Tim no choice but to add talent with the additions of Thomas and Anna. I see both as the top talent for each gender on this team and if they both play well and Marty can make smart decisions, this team has upset written all over it. Prediction: Loss in 2nd round because of attendance conflicts
4th & Schlong / 15:1 odds
Surprisingly auto correct didn't fix 'schlong' when typing or I may overuse this word in my personal life.....Sean likes to change his team name more than you know and this group was busy during the winter session getting some reps in. I think the chemistry is already there as several of these players go "Balls to the Wall" during softball season and if they can get competent play from their QB and build off the winter session, they could make some noise. It's good to see Hoffman out there keeping it going and he will be a top target for Brian. Prediction: Loss in 2nd round
Suite D / 20:1 odds
Former DIII QB Clayton comes back to play for D3 (III) at Game On! His profile is entertaining and this guy is fun to watch. He always seems to have fun on Saturdays, win or lose, but I think there will be more losing than he hopes. I love seeing new teams in our league and wish the best for Suite D as they attempt to battle for a D3 title. He has the knowledge of the game and leadership it takes to run a successful team. Prediction: Loss in 1st round
It's for Fun / 50:1 odds
Challenging "Suite D" to D3 basement dwellers is "It's for Fun." After going 2-8 in the Fall session, Austin and his friends look to improve. I think that Jenna will need to step up in order for them to win some more games, but either way, it is all "Just for Fun," right? Prediction: Loss in 1st round....by a lot
Golden Keg Division - East
Boozin and Losing / 2:1 odds
I don't really see anyone challenging Darren's team except "Balls Deep." They have the best female in the division in Rochelle and all the sloppy seconds from "Can't Two Hand Touch This." They play fast and fun and will be hard to stop on offense. I know they could compete in D3 and they are early favorites to hoist the Golden Keg. I think the league should have a drink-off between this team and Goatsack!, there wouldn't be enough beer! Prediction: Championship win
Balls Deep / 4:1 odds
Is a roster with Andrianna, Andy, Savion and Tiffany really allowed in the Golden Keg Division?....maybe in the East division but not the West? Wow! I love to see this team still going and know that Lenny would be proud to see his friends continue with his legacy on the field. If Mike can hold his cool, he won't, and throw consistent and accurate passes, he won't, then these guys have a chance to upset Boozin and Losing. Prediction: Loss in Championship and Winners of Best at Bar
All Razzle No Dazzle / 6:1 odds
This could be the slowest team in the league this year speed-wise. Captain Dave has his team wearing the Gold this session and offered Clay a $100 million guaranteed contract to come throw for them. Clay will quickly find what great players Lindsey and Dianne are but John is coming back from a wrist injury and Chris isn't even on his dad's roster. I see this team having a lot of fun but not winning any upsets in the playoffs. Prediction: Loss in Semis
Ghosts of Meridian / 20:1 odds
Isaac respectfully takes the captain spot of the free agent team helping some new players join the Game On! football family. I would like their chances better if they were wearing white for ghosts rather than orange, but this should be a fun team and symbolizes what the league is trying to accomplish with everyone getting together on a Saturday and meeting new people. Ryan has the most experience on this team, playing for years across all the divisions and could be a lock for the starting QB gig. Prediction: Loss in Semis
Trophy Wives / 30:1 odds
Dustin brings a brand new team to Saturday football and not much is known about them. There are some pretty generic player names on this team competing with team "Go Deep" in D2 for Top Baby names of the 90's. New teams tend to struggle at first but some catch fire right away. I think this team struggles but would love to be proven wrong. Prediction: Loss in 1st round
Your Mom / 40:1 odds
Another new team rounding out the division with Michael and his squad testing their skills at the Golden Keg. Apparently Lamar Jackson is on this team.....or at least a picture of him. If Andrea, Angela and Julia know how to ball this team could spell upset for the rest of the division. Prediction: Loss in 1st round
Golden Keg Division - West
Kitna Kids / 2:1 odds
These guys played the winter session and could have been in the higher division....so what do they do....go out and add Jackee! Instant contenders, if she doesn't pout of course. Joe and his team will look to take that confidence of playing upper talent in the winter to the Golden Keg West division this Spring and I like their chances. This team is fast and boasts some of the best athletes in the division and that spells championship. Prediction: Championship win
Ampadu's Assets / 5:1 odds
"Kitna Kids" are the team to beat in this division but "Ampadu's Assets" are not too far behind. Sergio and Marco literally never stop running and love the deep ball. They return almost the same team and look to build on their 3-4 indoor session results. I like their chances but the QB position is questionable at best. Prediction: Loss in Championship
Shattered Dreams / 7:1 odds
Former champion and iffy ref Chris Ritz brings his team back for another shot at the Golden Keg. The Jade Dome looks great on this team and have you heard how uncoveraable Keyshaun is? Triple cover this guy and he STILL will leave you in the dust! The chemistry is there with this team and I like their chances if Chris gets hot at QB. They could upset one of the top two teams. Prediction: Loss in Semis
Boats and Hoes / 7:1 odds
Not too long ago this team or a version of it was winning games in D2, so why the drop? They still have Mai and Xavier and Josh played his team in the winter session. They must know something that I don't or simply want to crush the competition in the Golden Keg Division. I am going to go with them knowing something that I don't. Prediction: Loss in Semis
Show Me your TD's / 15:1 odds
Did you know that Christina and her team have been around since 2013? Mainstays Jeff, Josh and Joe return to help her make another run at a title. Will Rachel be enough to help them? I don't see very many females on this roster and that could spell trouble. Prediction: Loss in 1st round
Odoo / 100:1 odds
Officially the largest roster in the league at 18 players, this team could have 2/3 of their team not show up and still not have to guest pass! The team even pitched in to have billboards put up all over town with their name on it! I hope Angela can effectively manage her coworkers and find one person out of the group to play QB or it may be a long season. Prediction: Loss in 1st round
So there you have it, the preseason predictions and write ups that will all come true by season end! Of course if you loved what you read or want me to know more you can email me at TheManager@game-on-sports.com and give me the rundown of your team. I look forward to seeing how the season progresses and my predictions falling into place.
There will also be an article with weekly game predictions and insight into ALL of the weeks' games. I would like to end the article each week with my "Extra Points;"
3-Point Conversion:
Thank you to Brandon, Marty, Tim & Tom for a seamless transition from our previous owners, Joe and Sue. The leagues all ran without problem and all 6 of the names listed above have done a wonderful job compiling a wide variety of social sports in which we can all have fun, meet new people and get out any day of the week to exercise.
2-Point Conversion:
Which title favorites above do you think are locks?...my prediction is Kitna Kids in Golden Keg - West.
Which division title favorites above are likely to be upset and by whom?...my prediction is Totes upset by Touchdown There in D2.
1-Point Conversion:
Thank you to our referees who have come back for another session and for new refs that have stepped up to help. The league would not run without you and although you all miss calls here and there, I appreciate all that you do.
"The Manager"